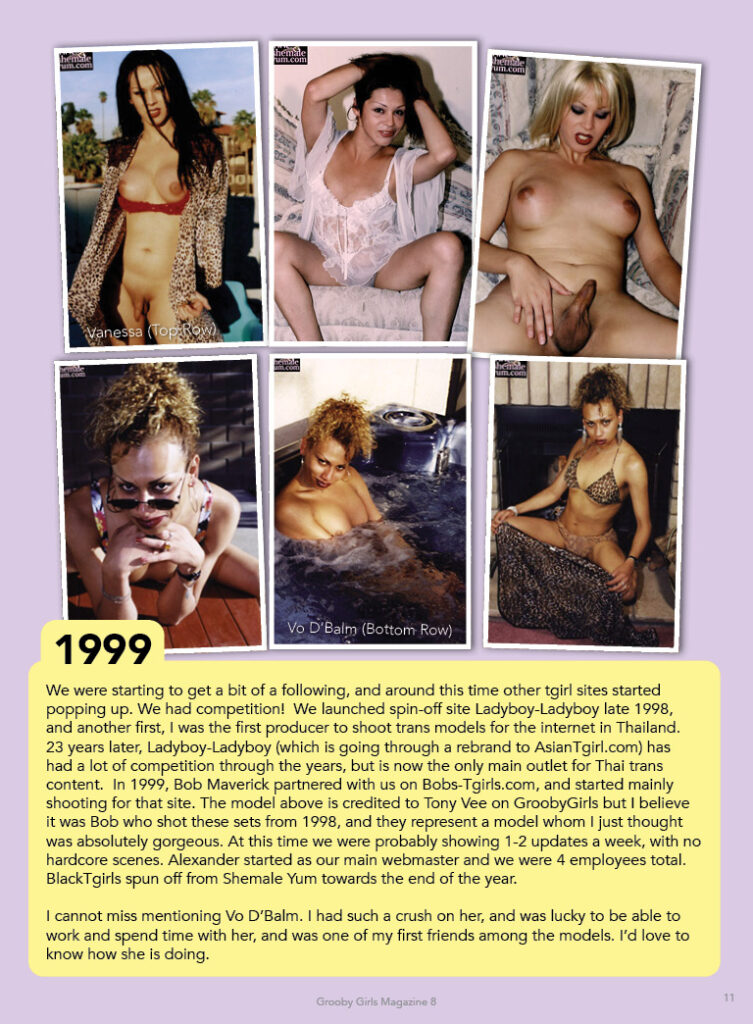 We were starting to get a bit of a following, and around this time other tgirl sites started popping up. We had competition! We launched spin-off site Ladyboy-Ladyboy late 1998, and another first, I was the first producer to shoot trans models for the internet in Thailand. 23 years later, Ladyboy-Ladyboy (which is going through a rebrand to AsianTgirl.com) has had a lot of competition through the years, but is now the only main outlet for Thai trans content.
In 1999, Bob Maverick partnered with us on Bobs-Tgirls.com, and started mainly shooting for that site. The model above is credited as Tony Vee on GroobyGirls but I believe it was Bob who shot these sets from 1998, and they represent a model whom I just thought was absolutely gorgeous. At this time we were probably showing 1-2 updates a week, with no hardcore. Alexander started as our main webmaster and we were 4 employees total.
BlackTgirls spun off from Shemale Yum towards the end of the year.
I cannot miss mentioning Vo D'Balm. I had such a crush on her, and was lucky to be able to work and spend time with her, and was one of my first friends among the models. I'd love to know how she is doing.