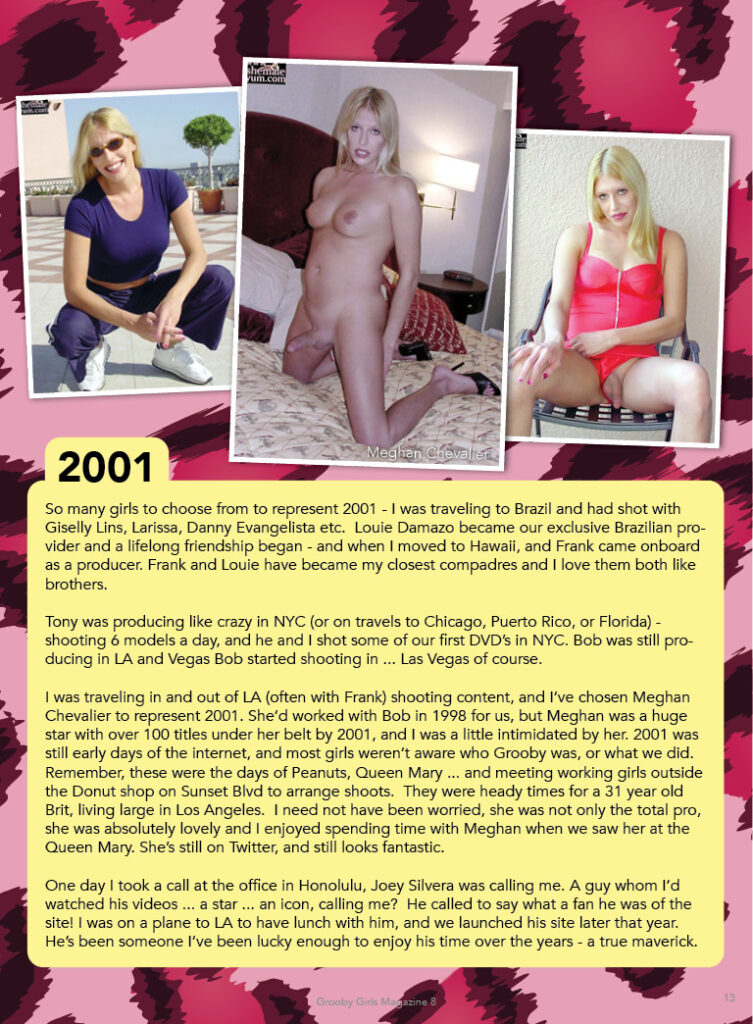 So many girls to choose from to represent 2001 – I was traveling to Brazil and had shot with Giselly Lins, Larissa, Danny Evangelista etc. Louie Damazo became our exclusive Brazilian provider and a lifelong friendship began – and when I moved to Hawaii, and Frank came onboard as a producer. Frank and Louie have became my closest compadres and I love them both like brothers.
Tony was producing like crazy in NYC (or on travels to Chicago, Puerto Rico, or Florida) – shooting 6 models a day, and he and I shot some of our first DVD's in NYC. Bob was still producing in LA and Vegas Bob started shooting in … Las Vegas of course.
I was traveling in and out of LA (often with Frank) shooting content, and I've chosen Meghan Chevalier to represent 2001. She'd worked with Bob in 1998 for us, but Meghan was a huge star with over 100 titles under her belt by 2001, and I was a little intimidated by her. 2001 was still early days of the internet, and most girls weren't aware who Grooby was, or what we did. Remember, these were the days of Peanuts, Queen Mary … and meeting working girls outside the Donut shop on Sunset Blvd to arrange shoots. They were heady times for a 31 year old Brit, living large in Los Angeles. I need not have been worried, she was not only the total pro, she was absolutely lovely and I enjoyed spending time with Meghan when we saw her at the Queen Mary. She's still on Twitter, and still looks fantastic.
One day I took a call at the office in Honolulu, Joey Silvera was calling me. A guy whom I'd watched his videos … a star … an icon, calling me? He called to say what a fan he was of the site! I was on a plane to LA to have lunch with him, and we launched his site later that year. He's been someone I've been lucky enough to enjoy his time over the years – a true maverick.