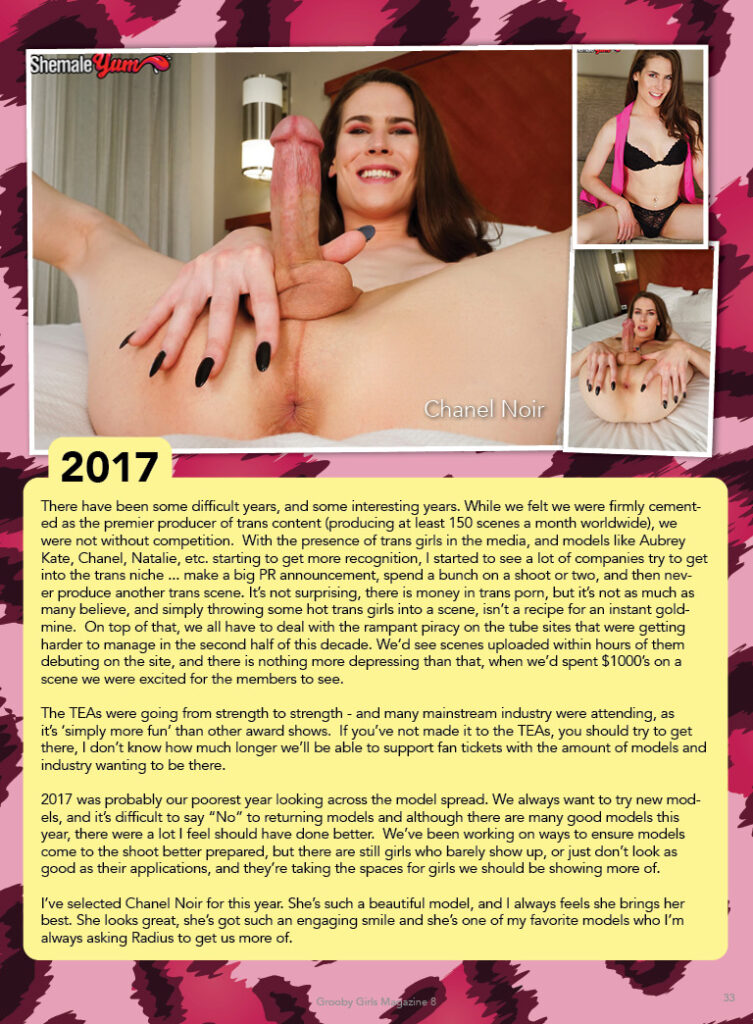 There have been some difficult years, and some interesting years. While we felt we were firmly cemented as the premier producer of trans content (producing at least 150 scenes a month worldwide), we were not without competition. With the presence of trans girls in the media, and models like Aubrey Kate, Chanel, Natalie, etc. starting to get more recognition, I started to see a lot of companies try to get into the trans niche … make a big PR announcement, spend a bunch on a shoot or two, and then never produce another trans scene. It's not surprising, there is money in trans porn, but it's not as much as many believe, and simply throwing some hot trans girls into a scene, isn't a recipe for an instant goldmine. On top of that, we all have to deal with the rampant piracy on the tube sites that were getting harder to manage in the second half of this decade. We'd see scenes uploaded within hours of them debuting on the site, and there is nothing more depressing than that, when we'd spent $1000's on a scene we were excited for the members to see.
The TEAs were going from strength to strength – and many mainstream industry were attending, as it's 'simply more fun' than other award shows. If you've not made it to the TEAs, you should try to get there, I don't know how much longer we'll be able to support fan tickets with the amount of models and industry wanting to be there.
2017 was probably our poorest year looking across the model spread. We always want to try new models, and it's difficult to say "No" to returning models and although there are many good models this year, there were a lot I feel should have done better. We've been working on ways to ensure models come to the shoot better prepared, but there are still girls who barely show up, or just don't look as good as their applications, and they're taking the spaces for girls we should be showing more of.
I've selected Chanel Noir for this year. She's such a beautiful model, and I always feels she brings her best. She looks great, she's got such an engaging smile and she's one of my favorite models who I'm always asking Radius to get us more of.