Unfortunately, the first models on the site, which included the Commander's shoots of Nicole, and other girls from Texas have been lost over time, and there is a little jumble up of the first few years with the dates (the site has been on multiple platforms, and redesigns) but we'll start with some of the first girls from the 1990's when the site launched as Shemale Yum and grew through the years, rebranding as GroobyGirls.
These 25 girls represent each year we've been online, delivering the newest and the widest range of trans models.
1996-1998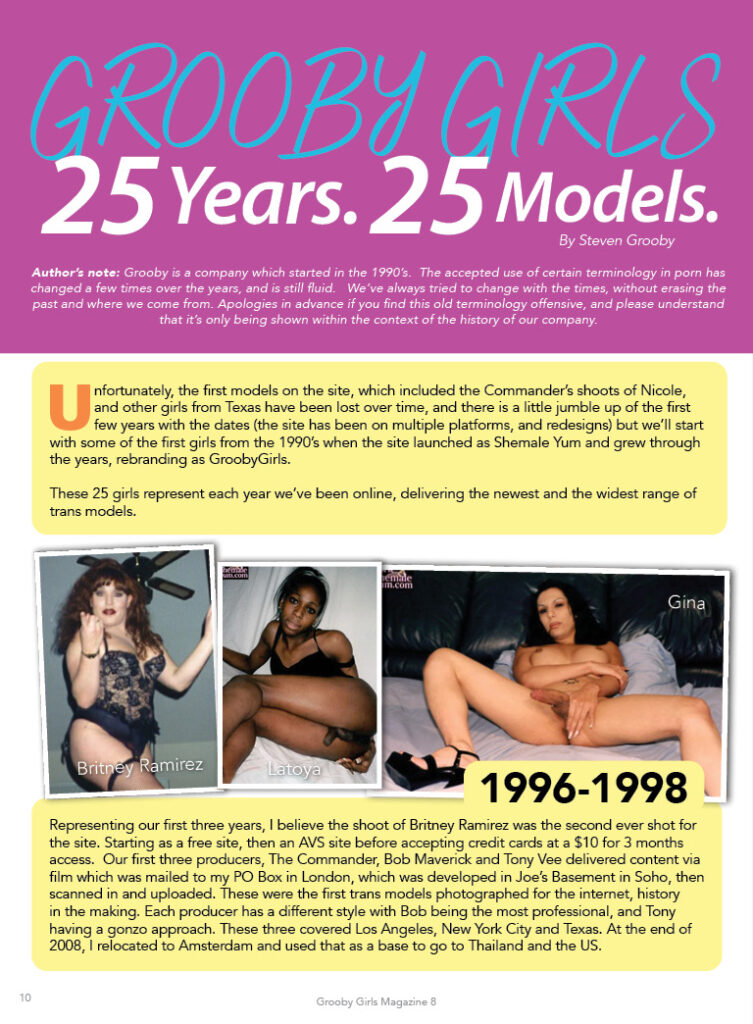 Representing our first three years, I believe the shoot of Britney Ramirez was the second ever shot for the site.  Starting as a free site, then an AVS site before accepting credit cards at a $10 for 3 months access.   Our first three producers, The Commander, Bob Maverick and Tony Vee delivered content via film which was mailed to my PO Box in London, which was developed in Joe's Basement in Soho, then scanned in and uploaded.  These were the first trans models photographed for the internet, history in the making.  Each producer has a different style with Bob being the most professional, and Tony having a gonzo approach.  These three covered Los Angeles, New York City and Texas.  At the end of 2008, I relocated to Amsterdam and used that as a base to go to Thailand and the US.