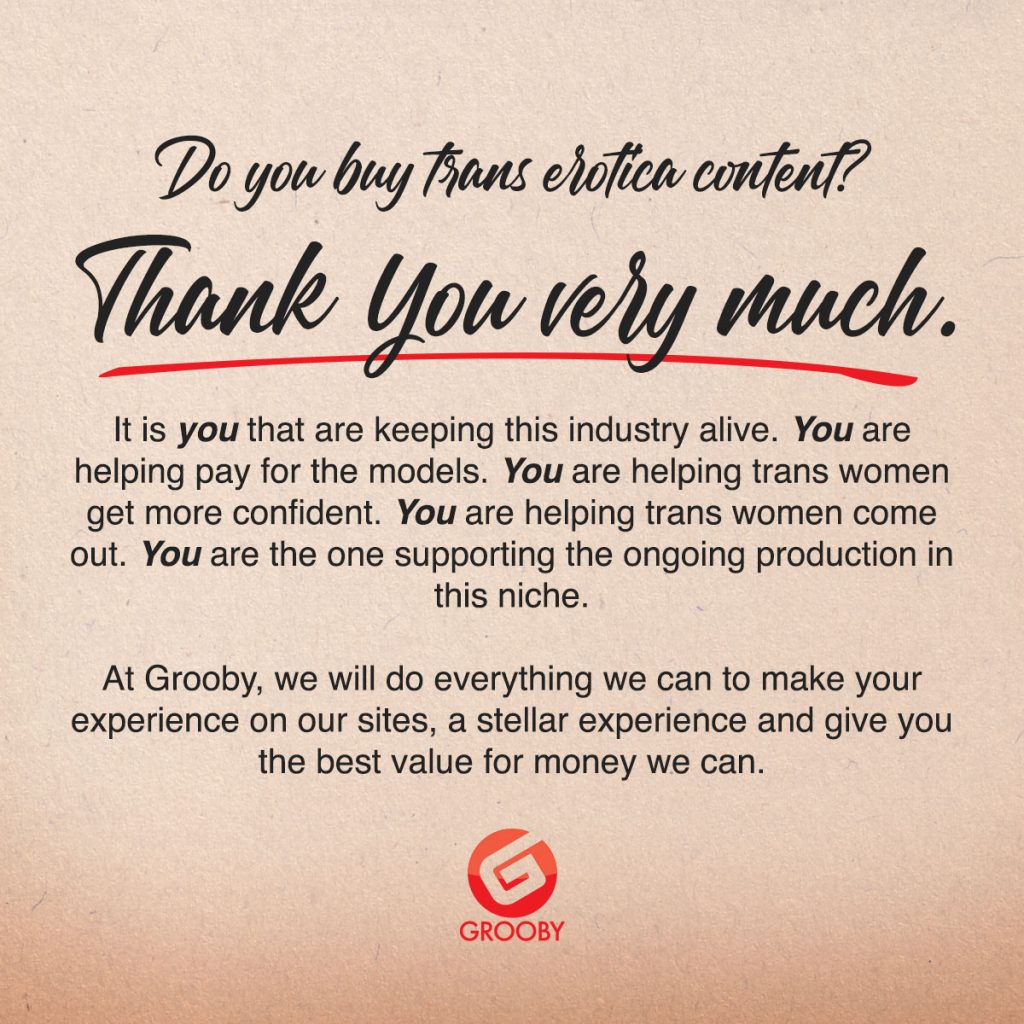 Grooby Members Appreciation Week is now running – you can be part of all the special offers, giveaways, and fun at Transporn.deals, by following us on Twitter Grooby Promos or on the members area of any of our sites.
The truth is, this is just a bit of fun. It's a way for us to get current members, or those who haven't seen all our products, the opportunity to get to sample it at a price they may be willing to try it for. We are also able to reward those who buy multiple memberships, or longer terms with our 2 for 1, or 'Make me an Offer Day' (*see more on this below) and by wrapping it all in one week, we can make an event of it, in which followers will get the opportunity for great deals, or free stuff – and we're able to promote and help who we can.
If you are buying our porn, then every day is Appreciation Day! Without you we wouldn't be able to do what we do, and that's why our customer service and our members experience teams work as hard they do, to make sure that you're appreciated and getting what you expect for your money. We try to exceed expectations on our products when we can, and we try to make as many members happy and as satisfied with what we do, as we can. Of course, it's not always possible, there are always going to be people whose expectations are impossible to meet, whose tastes differ from what we produce and who feel entitled to more than we're able to provide, but we hope we can tease, excite and make the majority of our members feel fulfilled.
Grooby is a partnership – between the 100's of models we work with a year, between the producers who mostly work exclusively with us, between the support staff (editors, webmasters, marketing, etc.) and between the supporters who provide us with the budgets to shoot well over 180 scenes a month. Grooby has always worked on tighter margins than many mainstream adult companies, mainly because the potential ceiling of people both willing, and able to pay for trans porn is significantly lower than those mainstream companies. The onslaught of piracy and tube sites, competition with large companies, global economies affecting the amount of cash for leisure that people have – all take their toll on the incomes of the sites, and this is something we are mindful of, and always trying to compensate for.
Myself and the staff at Grooby, all appreciate how fortunate we are to work in an industry we love, with people we love – and we believe we're making a difference through our porn – but we never take it for granted.
I appreciate that not everyone can pay for porn all of the time. I understand the enticement of stolen content (and who hasn't watched or downloaded something?). I empathize with those who simply want to pay, but find it hard to make ends meet. I want to thank everyone who does pay some towards their porn. Whether that's just a few memberships, or downloads a year – or whether you're able to provide more on longer term members, buying girls clips, etc. you are all very, very much appreciated and if you buy content/memberships from Grooby you are directly responsible for us being able to continue to produce, to bring new models through, to try new sites and for us to continue production in all area.
Thank you.
* 'Make Me An Offer Day' is coming this week. You tell me what you want to buy/pay for – I'll see if we can do. Multiple sites at one price? Longer term? DVDs? Downloads? Special Requests? Go to Transporn.deals and watch that space!