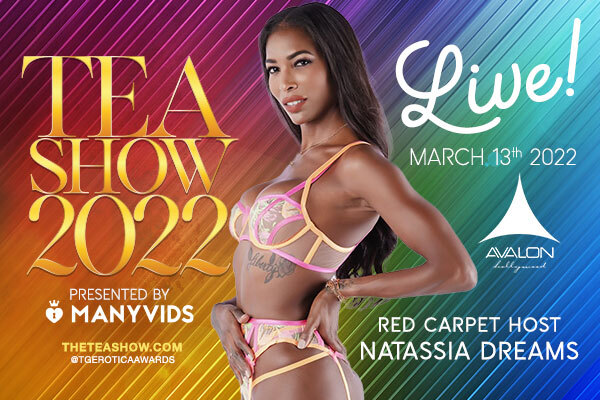 Nominations are coming out later today in full.
Follow them on https://twitter.com/TGEroticaAwards and http://theteashow.com more on this in a minute.
Some news on the format of the show. We're confident that the live Sunday night show will go ahead as planned on Sunday March 13th, however the pre-party is looking less likely due to logistics and Covid restrictions. We will be requiring everyone to provide a vaccination certificate along with their ID at the door. There will be no public tickets available this year, it will be an 'invite only' and limited to nominees, sponsors, media, those in the trans adult industry and select guests. There may be some tables for sale – and those will be offered to people who have bought previously first. We will be publish the system for getting on the list in Feb so you can plan accordingly.
We appreciate that this isn't ideal – but we are able to do a live show, and get back to together and I'd urge as many people who feel comfortable, confident and safe, to attend and bring back a bit of normality. Domino takes centre stage, Natassia is doing the full red carpet, Manyvids is back as our sponsor and we're going to announce some stellar entertainment soon. There is plenty to do in LA to make a full weekend of it!
THE NOMINATIONS.
Boom, boom, boooooom.
Each year I try to pre-empt the issues and fallout from the nominations (and eventual winners) by explaining, often futilely, how our process works. We don't take the nomination process lightly, and there is always a lot of hand-wringing and heated discussions on who should be included in the limited slots.
We asked the fans and the industry to send us their suggestions for each category. This isn't based on the amount of suggestions each person got – but gives us a starting point to look at titles or individuals who we may not be aware of. We do give more weight to production companies, producers and industries suggestions. There have been over 500 emails, pre-nominating in all categories this year.
Our selectors look for models who have done a good body of work and hopefully across a number of companies. It's been more difficult the last two years, with less productions from companies and more trade content which is difficult for us to view, but we've tried to get a fair balance. When it comes to scenes and DVDs we try to also get a few from each company. It can be quite hard to compare, as GenderX do very different scenes to Evil Angel, who in turn are very different from Transsensual, Devils, AdultTime or Grooby (and other companies).
We eventually get it down to a workable number. My goal was always to have maximum 12 nominees in each category, but that's just impossible. As much as we try to keep it down, some categories like 'Best Hardcore Performer' have so many potential winners, that they have to be larger. There are so many girls who need and deserve that recognition and their opportunity to be in front of the judges. Our judges panel is made up of industry representatives and fans who don't get to talk to each other before the show and are asked to make their top choices which are tallied for the winner. You can find out whom the judges were for that year in the program at the show.
The TEAs are always meant to be as inclusive as possible, and to be the most transparent of award shows. For that reason, we do have an 'appeals' process. If you feel we've missed a scene/DVD or an individual from a category, then email us at admin@grooby.com with reasoning on why they should be included. It's very unlikely we'd be adding anyone to the main performer/model categories but if there is a scene or a DVD, a niche performer or something untoward then we'll take another look. Please don't expect an answer on the appeals email, it would just be unproductive for us to get into a discussion of 'why'. This process will close on 12th January
The TEAs are meant to be fun and a celebration of all things trans erotica, originally started because the bigger award shows side-lined us, and continued because they're way more fun than other shows. Being nominated does mean that you've been recognised as someone who is doing good work, but if you are not nominated that doesn't mean you are doing anything wrong, or should feel downhearted. It means that either those that are nominated had a higher profile this year, or we simply didn't get to see your name in the pre-nominations. If you enjoy what you do in trans porn, then this show is also to celebrate you.
One final note on the image cards:
Nominees for Best non-trans male and female, please email a photo you'd like to use on your graphic and in the program to admin@grooby.com
If a nominee absolutely hates the image we've chosen (we have limited choice and time to select), then email a SFW image which you have permission to use to admin@grooby.com and we'll change it. This has to be done before January 14th
The nominations are going to be out on Twitter first – so follow them at https://twitter.com/TGEroticaAwards and published on the site later.