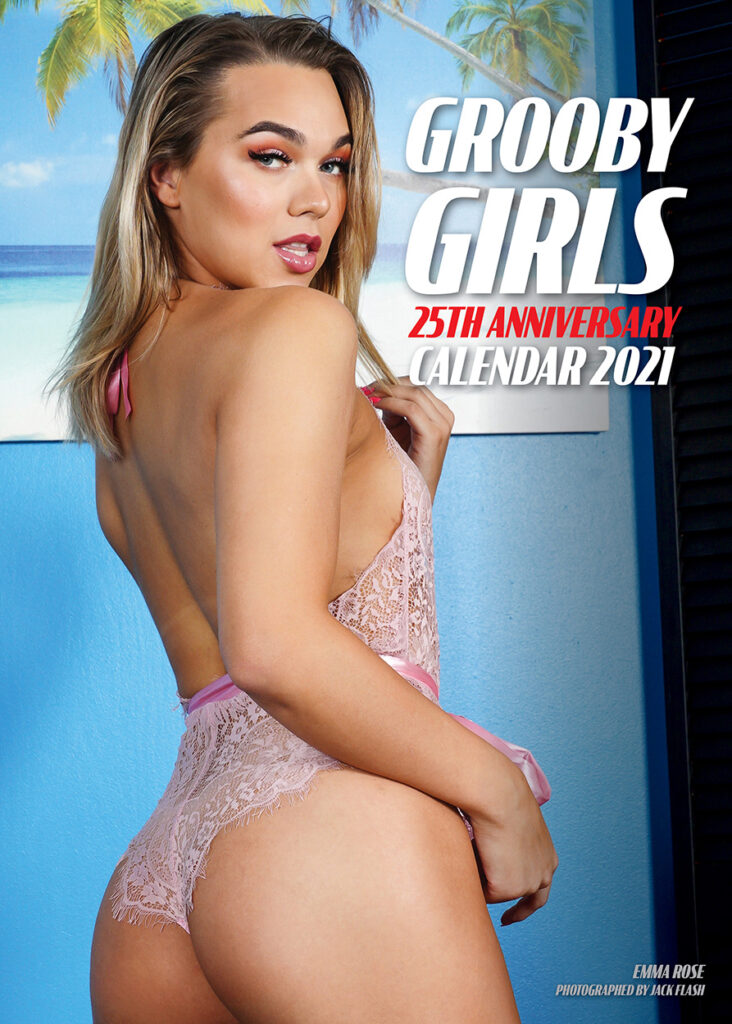 There will be a press release for the calendar later today, but as the person who is responsible (as part of a team effort) for selecting the models and the exact shots we use, I thought I'd suck up the initial buzz and give you the insight of what goes on when I make my choices.
We've had two extenuating circumstances for this years calendar. 2021 is our 25th anniversary and we wanted to do something different and unique – and 2020 has been such a challenging year with our production cut down significantly, we've had less to choose from.
An early idea, at the start of the year was to feature a model from different era's of the company but the logistics in finding those models and getting a shoot soon put pay to that. The next choice was to do a double calendar (24 models) with one side being brand new girls from 2020, and the other side being a selection of more established models, but again production issues would have meant trying to shoot all the established girls during restrictions and that's proved difficult.
My choice for the calendar has always been the best photos of the year, and I've always wanted diversity from across the sites, and I always want to see some new faces. At Grooby we always preach about diversity and showing gorgeous trans girls of all different types, so we hit on the idea of showcasing that this year … so I'm extremely excited to announce your first look at …
The Grooby Girls 25th Anniversary Calendar 2021.
Going with the idea of a double calendar, we've selected 24 models from across all our sites, who featured over the last 12 months – and our cover girl. Each month gets two models, and it's your choice which to see … either turn it to your favourite of the two, or rotate it throughout the month!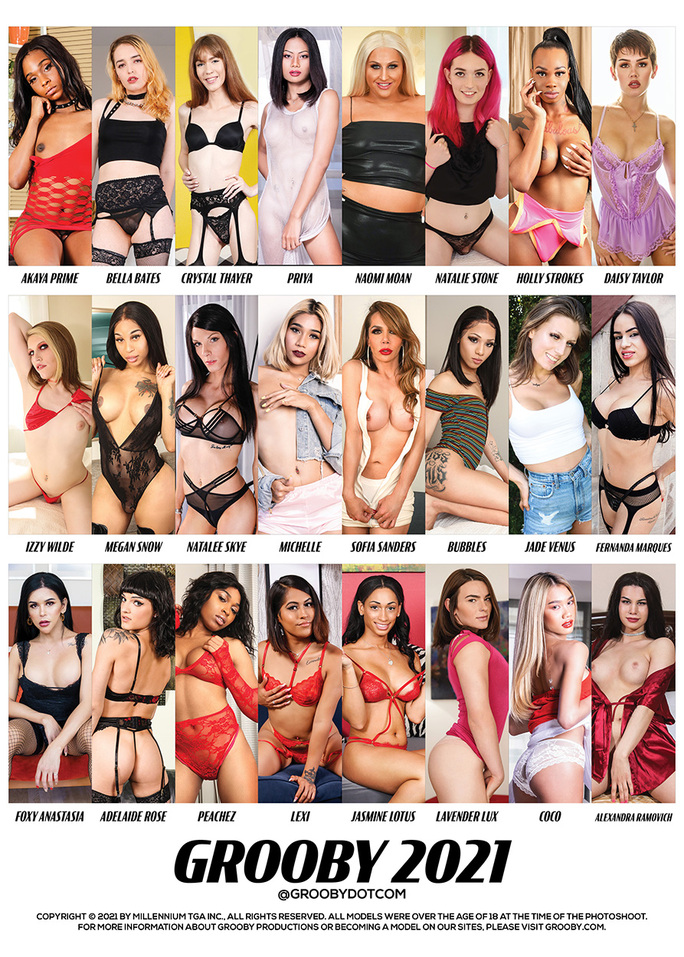 Selecting 25 models for this year, was no easier than the 12 we've had to select previous years, there were still models which we fought to include but with limited places, often it was finding the exact shot which worked for the calendar, rather than the model herself. I'm looking for that perfect photo which represents that model the best – but it also has to meet the criteria of being a great shot, sensual and sexual, it can show boobs and bulge (or even a bit hanging out) but not full genitalia – and I usually prefer a model smiling, to brighten my wall and my day!
Emma Rose was the natural choice for the cover girl for 2021. I don't believe any model has had a more auspicious debut year other than Daisy in recent years, and she's certainly the breakthru star of 2020 – and I'm hoping she continues that success through 2021.
I hope all the models are happy with the choice of images that were selected, it wasn't easy but I think it makes up for a really amazing representation of trans women in adult erotica and showcases exactly what Grooby stands for.
The calendar will be available to order today at GroobyStore.com and mailed out in mid-Oct. I strongly advise you to get your order in immediately as these do sell out every year – so stocks are limited.