I'll be starting week 4 of my lock down on Monday, after leaving Los Angeles after the cancellation of the TEA Show weekend – and quarantining with my family. I appreciate that I'm luckier than most, to live in a nice house with some garden and easy access to the outdoors, as well as not having any food shortages in our area. Still, there are moments when it can be challenging and I appreciate and empathise with those having it more difficult than myself, or those that are being affected more deeply.
I thought I'd give an update on Grooby – and the overall industry. While most of the adult industry is seeing an upswing in sales, I'd be very wary of anyone counting your chickens before they hatch. There are potential catastrophic economical issues coming and this rush of people stuck at home and spending money, could quickly become those unable to afford expenses for entertainment. We're already seeing some of that with cancellations coming in.
Content production is mostly stopped for the whole industry – and you are going to see some companies run out of material very soon. However, we have you covered. We're almost always 6-10 weeks ahead on most sites, so we had a pretty good head start and although we've moved around content on some sites, and had to reshape our updates – we've also added extra material from our premium editions you may not yet have seen, we've traded content with some cracking producers to give you extra value – and most excitingly, we've commissioned content from various models who are 'stuck at home' yet able to produce … Eclair Alyson, Shiri Allwood, Erica Cherry, Nicole Knight, Evelyn Tumbles, Janie Blade, Kerri LaBouche, Phoebe Farway, Lycha, Nikki Jaee and Phoebe Faraway are among models who have all produced for us over the last couple of weeks and whose content is going up on the sites. We may make this a new feature of the sites, as we're seeing some great content and I think adds a nice new dimension to the sites.
Grooby has had a number of initiatives to try and keep people entertained, and give them extra value. We're still giving free access to the world's largest Trans porn site – Grooby-Archives.com – for members of our other sites, or anyone who joins one of our other sites*. We've been running a series of Reddit AMA's – so far with Morgan Bailey, Janie Blade, Ryder Monroe, Kelly Quell and later today, the unforgettable Foxxy. You can find that (as well as a bunch of good content for free) at Reddit (r/groobygirls) – don't miss Foxxy at 3pm PST Friday 10th April.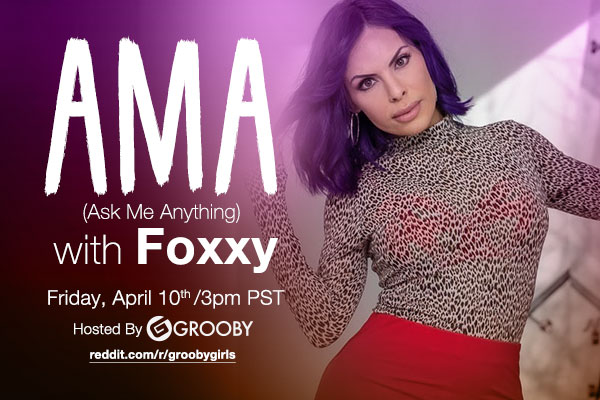 I hope everyone stays safe – and please keep checking out your favorite trans girls and trans websites.