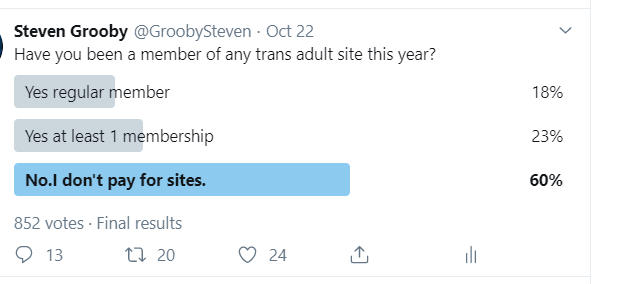 STOP.
JUST STOP.
Why are you showing yourself for free to people who have no intention or ability to pay for their porn?
Are people jacking off for free instead of buying your clips?
With the glut of Twitter porn, why pay for anything?
I'm assuming, or is it presuming, that if you're posting your content on Twitter that you're doing it to drive potential customers to your clipstore/cam site/website. That's exactly what we do as a company – but are we all giving away too much?
In a recent poll which you can see above, 60% of people just don't pay for sites, another 23% are frankly in the 'dubious' category and that leaves less than 20% who state they've paid in the last year. We done a recent survey on our sites that showed that only 20% of our members were even on Twitter, and most didn't follow us there (they used it for non-porn).
Furthermore, you can look at your analytics on Twitter and see where people are looking in from? Where are the majority from and are they buying?
Big website companies like Grooby use Twitter and other social media to drive potential customers to their sites. When we put up nudes of a model, we're hoping someone will click through and buy because of that model, or something else they see on the site. We have a little less to lose than an individual model showing herself (why buy when I've seen all you have to offer for free?) but nevertheless, would people buy more when they see less? The job of marketing is to get people to the front door of your website, clip site or cams – it's then the design and enticement of the front door, to get people to reach into their wallets.
Let me ask you a serious question – how much of showing yourself for free is to satisfy your own ego or validation that followers are aroused by your content? You get nourishment from their comments and likes – but those comments and likes are empty. They mean nothing unless that individual is then pulling his credit card at least once a year to buy something from you. I know my ego is inflated by a huge amount of likes on my post – but those likes don't keep me in cigars.
So I want you to join us in November to do a test. Don't tweet any genital or hardcore content at all. Show teases, put stickers over your genitals or just boobs, face and butt (no pussy/ass/cock!). Keep marketing, but just refrain from showing what makes you money – and get them to click. Let's measure it together and see if it makes any different to sales or at least engagement on your sites?
Grooby stopped showing our usual posts of genitals, fucking, etc. last week – now I want you to join us and try – so what do you say – Casey Kisses, Natalie Mars, Kasey Kei, Aubrey Kate, Annabelle Lane, Melanie Brooks, Lena Kelly, Shiri Allgood, Daisy Taylor, River Enza, Natalie Chen, Wendy Williams, Alexa Scout, Yuuki Trap, Mia Maffia, ChristianXXX, TS Celine, Jenna Creed, Claire Tenebrarum, Kelly Quell, Korra Del Rio, Aubrey Kate, Jasmin Lotus, Crystal Thayer, Sophie Ladder, Jak Dolce, Sarina Havok, Sofia Suxxx, Vanessa Jhons, Lain Arbor, Fivestar, Robin Banks, Kendra Sinclaire, Rachel Nova, Liberty Harkness, Roxxie Moth, Koko Beans, Scout London, Taylor Jennings, Jessy Dubai, Eddie Wood, Kerri LaBouche, Aeva Rhone, Evil Angel, Miss Vexx, Jessy Bells, Naomi Moan, Nikki Jade Taylor, Demii D Best, Janie Blade, Jenna Gargles, TS Chriselle, Ryder Monroe, Miran, Angelina Please, Penny Petalz, Robin Coffins, Kacy Tgirl, Cardi Falcone, Alice Blitz, Isa LaCrux, Kiersten Bunnz, Raven Roxx, Kaelyn Jaye and all the other performers I've missed (or who haven't posted in the last 24 hours)?
Let's try it. Let's see if we can give away less, and make more revenue – at the very least have people click through to our platforms, or cam pages before they get to see the good stuff for free. Let's do this together and encourage others to do the same.
Expect to see my in your inbox soon!
Tag us on Twitter #payforthegoods