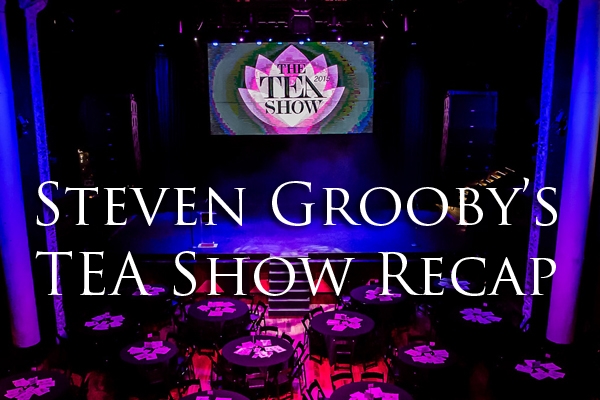 Each year I return to write a recap on the awards and it sounds like hyperbole when I rave on about how amazing this show was and how much of a leap forward it was from previous years but the truth is, each year from when we first went live at Cobra, through Blue Moon Nights and even the hiccup at Joseph's Cafe and our previous two year stint at the Beyond the Stars Palace, we've continued to improve and expand – however, this year was the year we really came of age.
Choosing Avalon was a risk.  It's expensive and we booked it and Bardot before we had many sponsors attached but working with the professionals at the venue, really helped make our lives easier.  Kristel has been working flat out for months on the show (as well as having to fulfill her other Grooby marketing duties) but she seemed to have almost a serenity and focused control on everything she was doing at this show.   We've all got to really thank the sponsors for this years show.  Changing the name did have it's desired effect in attracting new sponsors from different fields and it was great to see both Eros and Kink return this year after missing last years show.   We also picked up some larger new sponsors with Dr.Sinclair, Gamelink, PicoBong, but we have to especially thank those who have been with us year after year (and some who commit to sponsoring a year in advance).  Shemale.com/Pussycash have been huge supporters and some of you met Shay at this show (surrounded by the hottest girls),  .XXX have been excellent supporters of our industry and companies like the UP Network, Shemale Strokers, Transformation, Bob's Tgirls, Lord Morpheous, FameDollars, and Joey Silvera  return and support us by giving us the financial means to run the show but also by turning up in person.
Also returning solo models like Wendy Summers, Krissy4u, Jamie French, Eva Cassini, Jordan Jay, Michelle Austin (and her site Trans Men Adventures), Spunk Lube, Tasha Jones, Nikki Montero, TGirl Nights, FTM Fucker, and Buck Angel are truly putting their money where their mouth is and coming out and supporting the whole industry and not just their own brands, thanks to these returning sponsors we were able to attract new solo site sponsors like Christian XXX's Pure TS, Danika Dreamz, Semenette, Bonus Hole Boys, Amy Bexxx, TROUBLEfilms and Pure Play Media, Trannies in Trouble, Holly Parker, and The Best Shemale Network, whom I hope feel they got well represented.   Then we have Stockroom – a lifestyle company that fringes with our own, Stockroom sponsors the amazing Hudsy Hawn show which I'm sure you'd agree has added a lot more to the show in the last few years and we hope we can have them return (and yes, that is Hudsy singing!).
Grooby isn't a party organizer.  We're a an adult company who happens to run this show and a huge amount of time and effort are put into the show by people within our company (whilst having to do their own jobs) as well as people on our periphery.  Morgan Bailey doesn't get paid for standing for 4 hrs in heels on the red carpet having to snatch a few words from each model as well as being the de facto host of the following night, Michelle Austin doesn't get paid for warming up the audience and then interviewing the winners backstage, Ben and Al don't get paid for running around for 2 nights taking 1000s of photos and then editing them for release – they all do it because they love this scene, they're friends and allies to the adult TS community and they respect and enjoy what we're trying to do.   If I paid the Grooby staff for all the over-time they put on this, our company would be bankrupted – they also do it because they have great pride in what we produce.   So although I appreciate all the thanks you give me personally for putting on this show, I'm not being coy when I state that the respect and thank you's, should be given to everyone on the production.
So the Transgender Erotica Awards Show 2015 officially started on 9.30 on Saturday when an open call was given for anyone wanting to hike above Burbank to get our bodies ready for the next few nights of abuse.  Eight people showed, and I wasn't exaggerating when I told them it was going to be hard going.  Four made it to the top but sincerely, good effort on everyone who showed up.   Saturday night we have a private event at Buddy's house for models and industry guests as a warm up to the following evenings – we're sorry we can't invite everyone, space and privacy/safety issues would just be too much to deal with – even though a few fans have been lucky enough to finagle their ways in.  You can see the photos of this and live vicariously.
Sunday night.  The official 2015 TEA Awards and those arriving at the show  were greeted by Grooby Dev's awesome designed poster which was also the program cover (who spotted the seven petals for the 7th Awards?).  I don't think it's unfair to say that every attendee was impressed by the look of the venue.  Cocktails were held in the bar before the doors were opened into the theater, with the floor being for sponsored tabled seating and those who had purchased a table – whilst there was lounge seating behind it and plenty of views to seen.  The whole balcony was available and one smart group of four, found their way up there for effectively the best seats in the house.  The staging looked fabulous, the sponsors logos rotated on 6 huge screens and when everyone had schmoozed and were seated, our opening entertainer Sasha hit the stage with her dancers, followed by warm-up host Michelle Austin to introduce the lovely returning host, Jujubee.
One thing was immediately noticeable – gone were the days of presenters stumbling through nominees names,  we've gone classy.  Professional voice-over performer Mark read prerecorded  nominations over photos of the nominees – great work by Dan at Grooby on putting these together and special thanks to Mark for contributing his time (and tones) on this.  This kept the show moving faster and slicker, allowing the presenters to do their job … look gorgeous (mostly).   Kristel and I get to see the winners a few weeks in advance when we correlate all the judges responses (you can see more on the judging procedure at my blog).  As a judge this year I had more of an insight as to how bloody difficult it is – how do I choose this favorite over another favorite?   What I loved about this years winner is that unlike previous years, there wasn't a runaway winner … different girls won for different categories and although I don't want to comment on the actual winners, I believe all were good wins and hard to dispute and I believe this is the only show that really gets the winners right (on the right year) for our niche but seeing Jamie French, Penny Tyler, Tori Mayes, Aubrey Kate, Jessy Dubai, Kelly Klamour, Delia & Chance, Kylie Maria, Miran, Nina Lawless and James Darling all collect awards on stage, showed what a diverse group of winners we have.
What was noticeable this year more than last was the growth of the trans men in the audience and this is one thing, that I'm going to take the credit for personally (albeit jointly with Mr. Darling).  When I invited James to the show a few years ago, it was an effort to both make the show more inclusive but also to learn a bit more about that side of the industry – I didn't think it would grow within two years to the point where we had perhaps 15 trans men in attendance (to be frank, there could have been more … I just don't know).  I think most would agree that the addition of these guys to the show has greatly enhanced the event
Our Lifetime Award Winners are chosen by the Grooby staff and Foxxy and Ed Hunter had been on the list for a couple of years (with only one winner year in each category, we pretty much know the next few years).  Foxxy's acceptance speech showing just why she is such an awesome individual and I'll repeat, someone that new girls coming into the industry should look to emulate.
Hudsy Hawn's halftime show was fun (although next year we'll just have her enter without announcing the break to follow as people started to rush for the bar), but her end performance was fabulous and only Kristel knew she planned on inviting the audience onto the stage, which I think led an inclusiveness and a celebration of whom we all are.
We had so many amazing individuals in attendance from my friend Buck Angel, to stars Yasmin Lee and Gia Darling and a smorgasbord of girls from all over the world traveling in from Japan, Chile, Europe, Canada and all across the USA.  This year we also had more industry than ever before with both Xbiz and AVN showing a strong presence, Hustler, Flirt4Free, Kink, Eros, Stockroom, Gamma, etc.  and I think this is going to give us grounding to have even more present next year.
If you missed the second night at Bardot – DON'T MISS IT NEXT YEAR!   Unlike previous years (we only took over the after party last year), we dispensed with the go-go dancers and changed the event into a more classy and party atmosphere.  Bardot provides both a dance floor and hangout/lounge areas and it's already been called the tgirl party of the year.  This night give me a chance to meet and mingle with a lot more people – and my apologies if I didn't get a chance to say hi to anyone.   The media wall provided a great distraction (see all the photos) and thanks to Iris for wanting a photo of me there, I was then photographed with countless models over the next 45 mins which to be honest, was both humbling and hilarious. It was a great event and only sorry that it ended so early (Los Angeles laws!).
As much as we need to give thanks to the sponsors and the staff for putting on this show – and of course, the fans who are the real reason we are able to do all of this (no sponsors without fans) the real reason we put this show on is the performers and the models.  This is your celebration.  This is to say thank you, thank you and thank you from Grooby and all the production companies of all sizes who participate.  Thank you!   We excelled as an industry in showing ourselves to be impeccably presented (even including the "butthole fingering" reported by security)  – this year there was a real feeling of camaraderie amongst the industry and the models – you are all incredible people and it's my honor to be able to work with you.
Grooby turns 20  years old in 2016 … how shall we celebrate?  I hope you will be part of it.