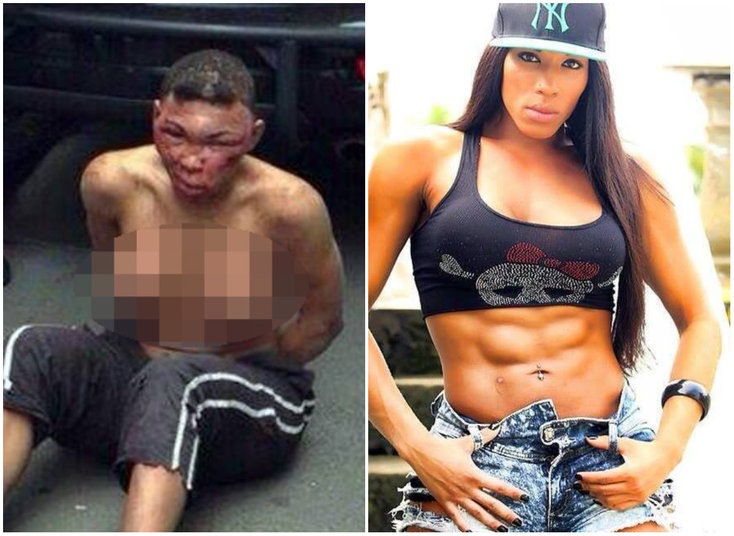 Many of you may have already seen the shocking images of Veronica Bolina, a transsexual from Sao Paolo, Brasil who has been seen on a number of adult websites. The photos are accompanied by powerful language;
"Transgender woman and model Veronica Bolina was beaten by police in the District of Bom Retiro in São Paulo Brazil, Police then shaved all of her hair off, handcuffed her, stripped her and made her pose for photographers."
"Police transphobia in Brazil: One picture is worth a thousand words."
These are shared via social network, with people naturally condemning what seems like another senseless, hate crime perpetrated by the police on a transsexual, in what seems in 2015, like an escalation of violence and deaths aimed at your trans people. In the case of Veronica Bolina though, not all is as it seems and perhaps that picture, did need to be accompanied by some words, to fully explain it.
Veronica Bolina is a model whom we've worked with a number of times, always with a fantastic attitude and rather unusually, a Brasilian transsexual woman who was very much into fitness, body building and health, although it did include injecting steroids. It came to a surprise to our producer in Brasil, Louie when he found out she'd started getting involved in drugs such as crack as he hadn't thought her the type (although he estimates 70% of more of the TS that he works with in Brazil are involved in some form of illegal drugs). Whatever it was – and we can surmise it was the crack, or the steroids – or a combination of the two – or neither, but when Veronica had an argument with an elderly neighbor in the same apartment building, she beat her into a coma and the victim was lucky to survive, although what permanent damage has been done, is yet to be known.
Now if Veronica was a crack using man – or woman – the story would have ended with her arrest and the relevancy of whether she's been beaten or not, would have been one of police violence, but because she was a beautiful transsexual, it's now getting circulated incorrectly, as trans-phobia.
From what I understand, and this is from credible sources who know Veronica personally and are her friends, she fought when getting arrested and looking at some of the claims that;
"she had her hair shorn" – she's wearing a weave in her glamour photos.  In the photo, she's clearly just been arrested and is handcuffed, unlikely they would have shaved her head in that time.
"stripped" – as above, that looks like the shirt has been ripped off during her arrest.
"forced to post for photos" – these were newspaper photos taken by a journalist at her arrest.
There is some supposition in the above – but they seem far more likely, then a systematic shaving, forced to strip that the Brazilian authorities are being accused of.
Veronica was taken to prison, where it's told (still probably under the influence) she started masturbating in front of other prisoners who started to beat her, when the guard tried to remove her, she bit his ear (eventually removing a large portion of it, and holding it in her mouth until she was forced to release it.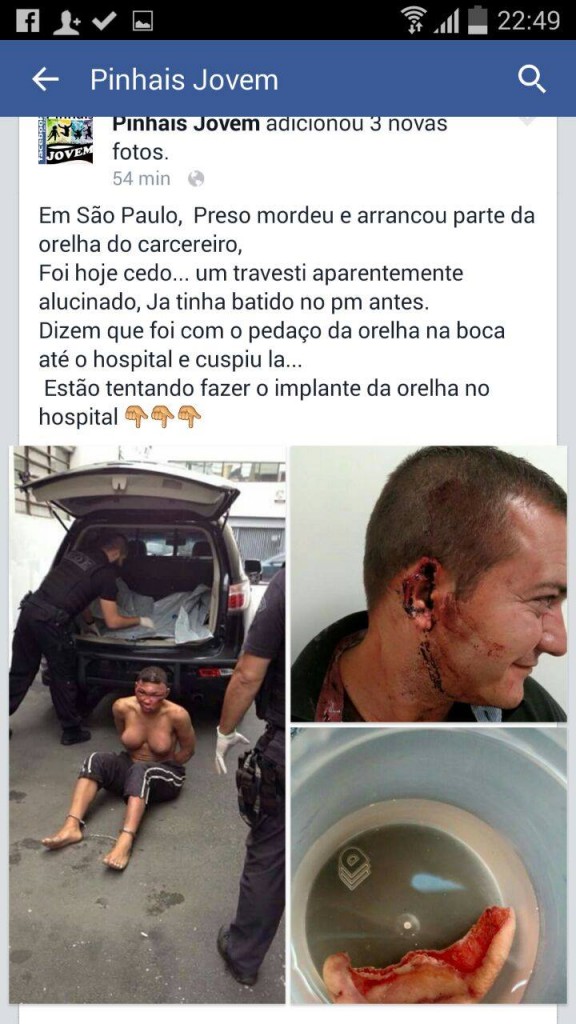 Veronica is now in prison.
Nobody deserves to be beaten like that and police should know how to deal with this better, but she's a big, strong, powerful woman – under the influence of crack (and steroids) who has just beaten someone into a coma.  Whether she struggled under arrest – or whether the damage came later as she bit the guards ear, isn't the relevant part of the story.  The relevance is that not only did Veronica need to be arrested but that it was absolutely irrelevant that she was trans.   She's is (was at the time) an out of control asshole, who was a danger to others and I'm surprised she wasn't shot or hurt more.  I'm not condoning that, but we've seen it happen in the US as much as Brasil or anywhere else in the world, when police are involved.
I'm not an apologist for the Brasilian police whom, whether through circumstances or not, are violent and corrupt.   I am however, getting tired of the "white knights" or the "cock bandits" who decide that just because it's a pretty trans woman committing these crimes, that she is the victim – and support her, I've been attacked online already for just telling this story.  Anybody who knows anything about my company or myself, knows that we'd be the first to publish, propagate and speak out against any form of hate crime or trans phobic behavior.
There is a danger of using and accusations of  trans phobia when the facts show themselves to be otherwise.  The photos of showing a beautiful, vibrant, transsexual model juxtaposed with a one of her stripped, short haired and beaten unrecognizable make sensational media copy, click bait and for people to rally around but it devalues the fact that many trans women are singled out, beaten, arrested, humiliated or murdered solely based on their trans status.  This was not the case, in what happened to Veronica Bolina.