Is she or isn't she?
I posted a couple of photos of a new model called Harley Quinn on a few boards earlier today and within minutes, I had posts coming in that she was an internet phenoma called "Linetrap" (try a google) and people demanding that I showed her cocks.
Well remember, Grooby does have female sites like Asian-American-Girls.com – and I've known for my evil trickery, so did I rename some photos we were doing for a social alt. girl website (inkanddye.com) with the Shemale Yum logo to generate buzz and hits ?  Yes … I mean no … oh ok, yes … or Englebert Humperdink!
What do you think.  Is Harley a tgirl or a girl?  Would I be such an evil bastard to do this … or is it simply good marketing … and will it backfire on me?
I'll let you make your mind up.
The lovely, Harley Quinn – aka Linetrap.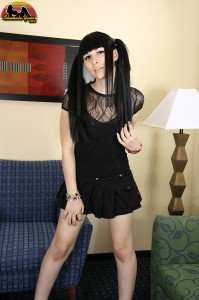 Of course, maybe I just found a girl who looks like "Linetrap" and I knew all along …