Yay! 90/100 is the score for the new redesigned Black-Tgirls. I would have been disappointed with less and I expect the new design for Yum to take the score up higher for that site than the 90 it's currently at. Frankly, seeing some of the other sites at 89 it's a bit crappy but will deal with it, as I know what we provide is better than they are. I took a look at the user ratings and it's so obviously that they're from people I've either pissed off or just other websites as their justifications are so far from the mark.
So well done to Russ and Dev for their awesome design work and everybody else who helped on the implementation of the new database. Black Tgirls looks awesome and the new design seems to be helping sales, with the members looking like they're enjoying the voting and the comment system.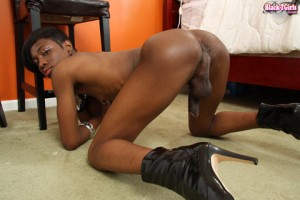 To be fair one of the biggest things on this site was the improving of the photography. Everybody loves Tony Vee's stuff and he's been shooting for the site for so long that people know what to expect from him – it's raw and it's horny. PK Vegas has been great with some well lit hot content but frankly, it's Remy and Dirty South who have been the biggest revelations. They went from being first time shooters to fantastic technical shooters within a short time and their friendly competition with each other works for the website! Some of the recent models like Fia, Chanel and Katie Coxx reshoots have been some of the best work I've ever seen – this photo of Fia is awesome …
Here's a few more samples – so cheers everyone, well done … now let's see if we can recoup some of the massive amounts of money we've spent on it!