Well I already know it's a great site but it's always nice to get a good review and after our recent great ratings on Rabbit's Reviews … here is AVN Online's take on Transexdomination!
Niche : Tranny Affiliate Program : Groobybucks.com Payout: Revshare, referrals Price: $34.99 monthly. Quality: 19 Quantity: 19 Deisgn and Usability: 18 Features: 19 Value:19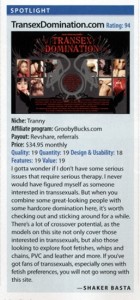 I gotta wonder if I don't have some serious issues that require serious therapy. I never would have figured myself as someone interested in transsexuals. But when you combine some great-looking people with some hardcore domination here, it's worth checking out and sticking around for a while. Thee's a lot of crossover potential, as the models on this site not only cover those interested in transssexuals but also those looking to explore foot fetishes, whips and chains, PVC and leather and more. If you've got fans of transsexuals, especially ones with fetish preferences, you will not go wrong with this site.
Review by – Shaker Basta