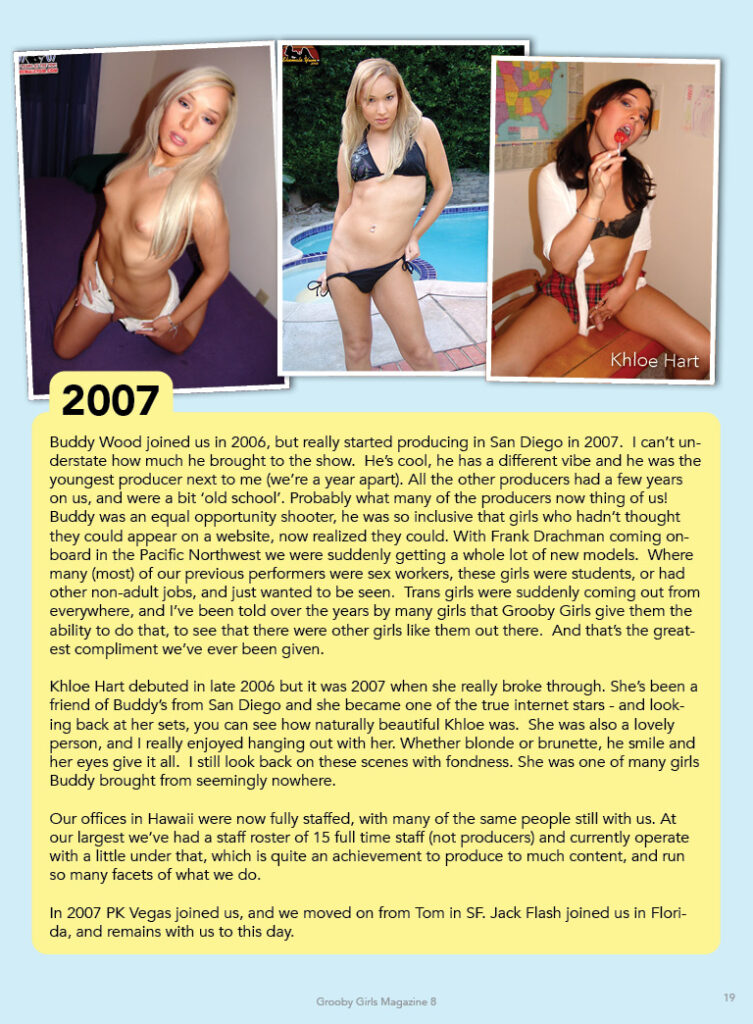 Buddy Wood joined us in 2006, but really started producing in San Diego in 2007. I can't understate how much he brought to the show. He's cool, he has a different vibe and he was the youngest producer next to me (we're a year apart). All the other producers had a few years on us, and were a bit 'old school'. Probably what many of the producers now thing of us! Buddy was an equal opportunity shooter, he was so inclusive that girls who hadn't thought they could appear on a website, now realized they could. With Frank Drachman coming onboard in the Pacific Northwest we were suddenly getting a whole lot of new models. Where many (most) of our previous performers were sex workers, these girls were students, or had other non-adult jobs, and just wanted to be seen. Trans girls were suddenly coming out from everywhere, and I've been told over the years by many girls that Grooby Girls give them the ability to do that, to see that there were other girls like them out there. And that's the greatest compliment we've ever been given.
Khloe Hart debuted in late 2006 but it was 2007 when she really broke through. She's been a friend of Buddy's from San Diego and she became one of the true internet stars – and looking back at her sets, you can see how naturally beautiful Khloe was. She was also a lovely person, and I really enjoyed hanging out with her. Whether blonde or brunette, he smile and her eyes give it all. I still look back on these scenes with fondness. She was one of many girls Buddy brought from seemingly nowhere.
Our offices in Hawaii were now fully staffed, with many of the same people still with us. At our largest we've had a staff roster of 15 full time staff (not producers) and currently operate with a little under that, which is quite an achievement to produce to much content, and run so many facets of what we do.
In 2007 PK Vegas joined us, and we moved on from Tom in SF. Jack Flash joined us in Florida, and remains with us to this day.