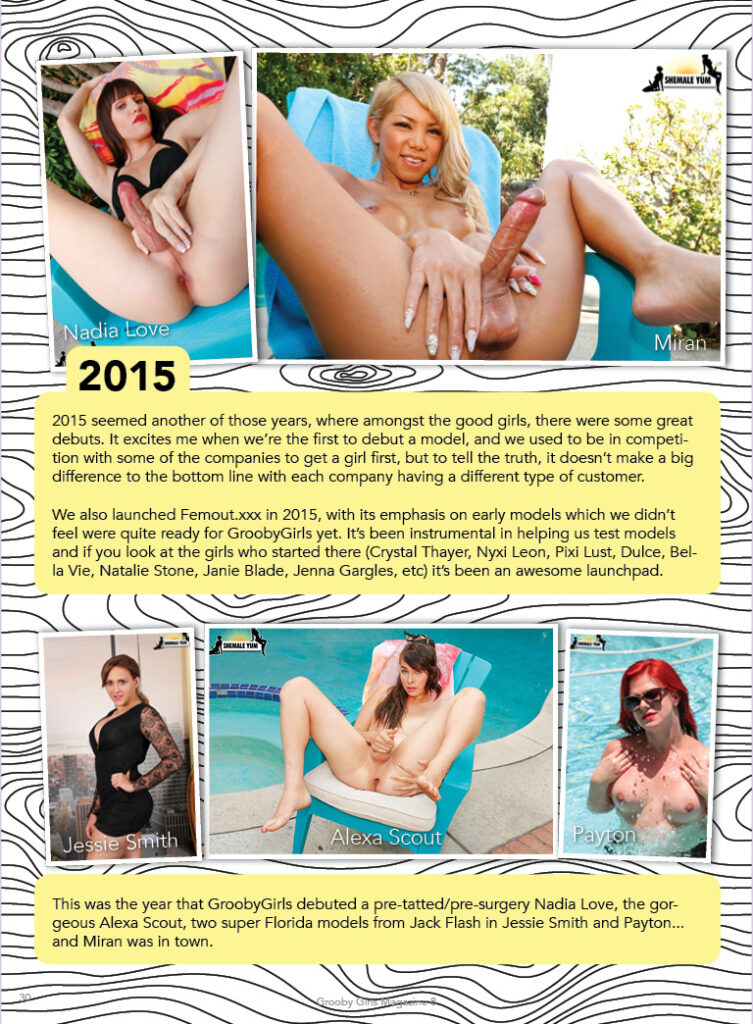 2015 seemed another of those years, where amongst the good girls, there were some great debuts. It excites me when we're the first to debut a model, and we used to be in competition with some of the companies to get a girl first, but to tell the truth, it doesn't make a big difference to the bottom line with each company having a different type of customer.
We also launched Femout.xxx in 2015, with it's emphasis on early models which we didn't feel were quite ready for GroobyGirls yet. It's been instrumental in helping us test models and if you look at the girls who started there (Crystal Thayer, Nyxi Leon, Pixi Lust, Dulce, Bella Vie, Natalie Stone, Janie Blade, Jenna Gargles, etc) it's been an awesome launchpad.
This was the year that GroobyGirls debuted a pre-tatted/pre-surgery Nadia Love, the gorgeous Alexa Scout, two super Florida models from Jack Flash in Jessie Smith and Peyton … and Miran was in town.
This was also the year that Omar debuted Natalie Mars. I'd followed Natalie's self-shot postings on Reddit (or was it 4chan) and she was a huge turn on. So natural, but so filthy (in a good way). She exudes sex.
When I met her at the 2016 TEAs she was a tiny, humble (and quickly drunk) little sweet thing, and in the years I've known her since, it does not surprise me to see who she has become.
Her success comes from the fact she's identifiable and relatable. One feels they know her, and then her eagerness to take her body and sex places others have not been, while allowing you along for the ride, is something unique and exciting.
Natalie Mars is a one off.