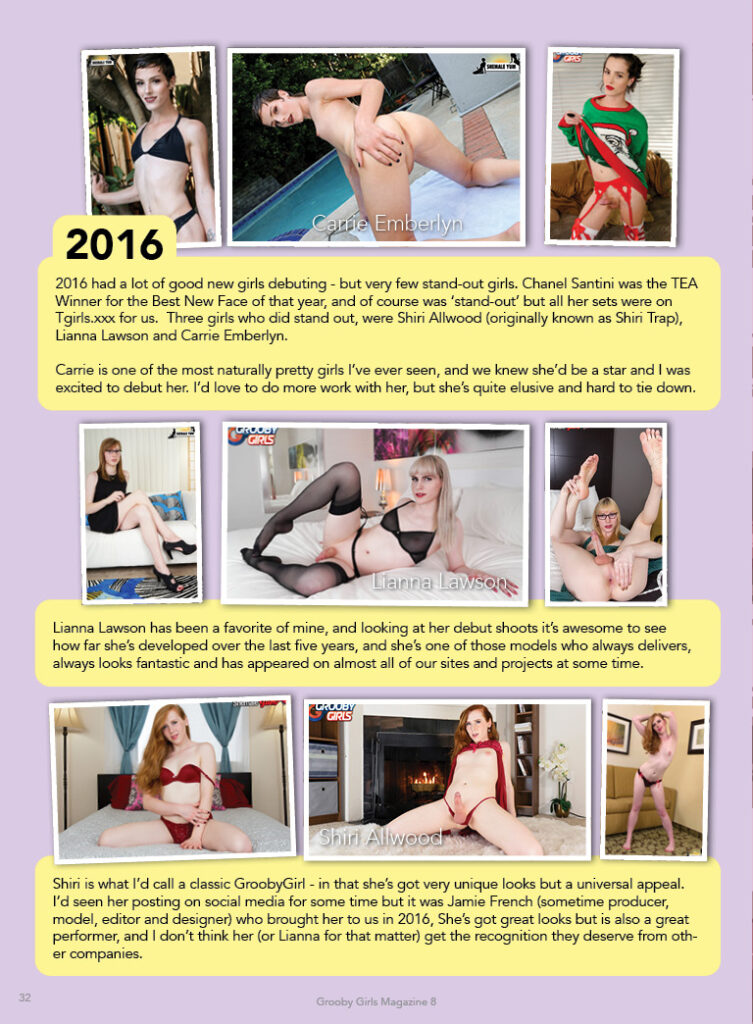 2016 had a lot of good new girls debuting – but very few stand-out girls. Chanel Santini was the TEA Winner for the Best New Face of that year, and of course was 'stand-out' but all her sets were on Tgirls.xxx for us. Three girls who did stand out, were Shiri Allwood (originally known as Shiri Trap), Lianna Lawson and Carrie Emberlyn.
Carrie is one of the most naturally pretty girls I've ever seen, and we knew she'd be a star and I was excited to debut her.  I'd love to do more work with her, but she's quite elusive and hard to tie down.
Lianna Lawson has been a favorite of mine, and looking at her debut shoots it's awesome to see how far she's developed over the last five years, and she's one of those models who always delivers, always looks fantastic and has appeared on almost all of our sites and projects at some time.
Shiri is what I'd call a classic GroobyGirl – in that she's got very unique looks but a universal appeal.  I'd seen her posting on social media for some time but it was Jamie French (sometime producer, model, editor and designer)w who brought her to us in 2016,  She's got great looks but is also a great performer, and I don't think her (or Lianna for that matter) get the recognition they deserve from other companies.