Given the amount of trans women and men that use the OnlyFans.com platform, I would have thought they'd be one of allies in the industry, providing performers the ability to make an income directly from their own content.
Aspen Brooks informed me this morning, that her OnlyFans had been 'suspended because of the hateful comments towards August Ames'.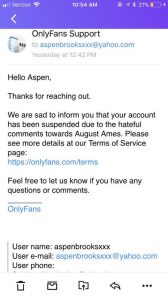 If OnlyFans wants to take a stance on hate speech and to only work with performers that adhere to their policy, then I applaud them for that and their stance. Yet when the main instigator in the hateful tweets to August, Jaxon Wheeler – who still seems to be un-apologetic and has has the most media coverage on this (Google it!) still has his OnlyFans account running, as well as other people who contributed to that thread, then it does seem like Aspen is being made a scapegoat? Why would one individual be picked out from many – and when her comments were a lot less inciting than others, to be blocked?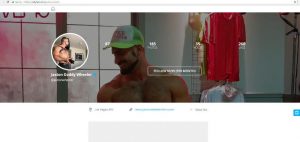 I'd like OnlyFans to answer this.
I also think that for all the talk about unity, that this is something that other trans women and men (and companies working with them) should look at very closely and make their decisions on what companies they wish to support.
I look forward to hearing from OnlyFans and will publish their response here and the action they aim to take.
Thank you
UPDATE : Apsen's OnlyFans account is back on. ChristianXXX spoke to someone there, and I believe she'd been switched off by customer service but it's not the policy of the company.
Thanks to Christian and all involved.