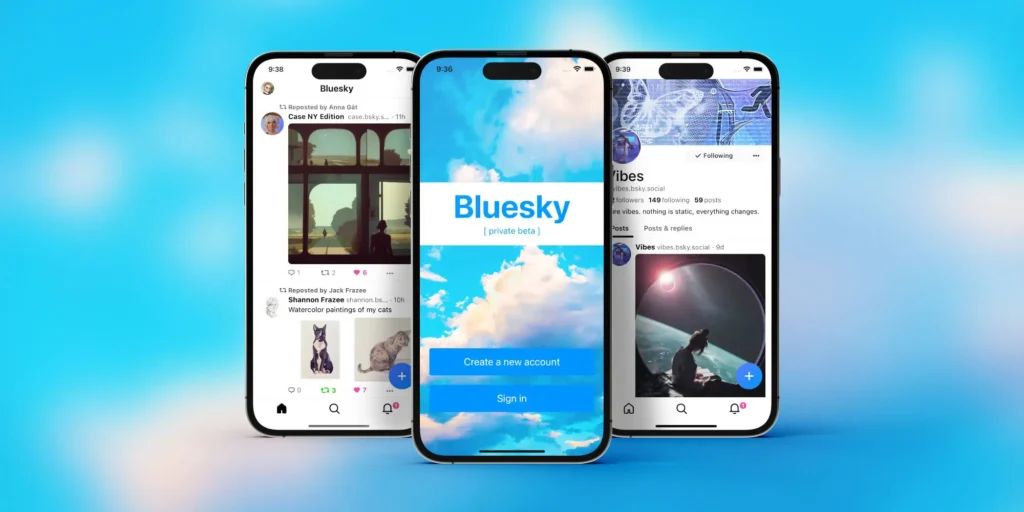 Tired of Twitter? A lot of us are, but we still need the reach to all the people using it, so we will continue to market on Twitter but I've also been testing https://bsky.app/ which is very similar, and although it doesn't have all the bells and whistles that Twitter has … yet … I can see how good this could be, and how much better for the Trans community.
So I want to appeal to you to give Bluesky a try. The most difficult part is getting an invite code to join the site (while they are still in Beta). Once you are a member, you get a new invite code every week or so, which you can then share. It's also a little difficult when you first get on, finding the people you want to follow.
Here is my proposal;
If you are a trans content creator and want access to Bluesky – then email us at talent@grooby.com with 'Bluesky' as the subject line and include your model name and twitter account. When we have a new invite code we will send it to you. We will prioritise models who have worked with us.
Once you get on Bluesky please try to follow and interact with as many trans adult industry accounts as you can. I'll create a list at the bottom of this page, if you want adding, then once you have your Bluesky account, email us at the same email address.
Once you get invite codes, please either give it to another trans content creator or trans social media person, or email it to us and we'll sent the invite code to the next person on the list.
Once on Bluesky – either create new posts, or just copy the ones you are doing on Twitter. The more engagements we all get, the bigger and better we can make that community, and we won't need the hassle of working with Twitter as much.
Please share this with as many people as you can on all social networks.
Accounts to follow updated 03 Sept 2023
https://bsky.app/profile/grooby.bsky.social [ME – Steven Grooby]
https://bsky.app/profile/tslanaheart.bsky.social
https://bsky.app/profile/realanaandrews.bsky.social
https://bsky.app/profile/ericacherry.bsky.social
https://bsky.app/profile/nikkiglitch.bsky.social
https://bsky.app/profile/a1exiseve.bsky.social
https://bsky.app/profile/marissawinters.bsky.social
https://bsky.app/profile/tsbellabates.bsky.social
https://bsky.app/profile/naomi-madness.bsky.social
https://bsky.app/profile/fetishdirector.bsky.social
https://bsky.app/profile/lucyhart.bsky.social
https://bsky.app/profile/autumnrain.bsky.social
https://bsky.app/profile/raynearts.bsky.social
https://bsky.app/profile/nikkisapphire.bsky.social
https://bsky.app/profile/paiges.bsky.social
https://bsky.app/profile/kellyquellts.bsky.social
https://bsky.app/profile/evietumbles.bsky.social
https://bsky.app/profile/cassiecummings.bsky.social
https://bsky.app/profile/nikkiophan.bsky.social
https://bsky.app/profile/princesskitti3.love
https://bsky.app/profile/janieblade.bsky.social
https://bsky.app/profile/hollyxhawkes.bsky.social
https://bsky.app/profile/finallyzoey23.bsky.social
https://bsky.app/profile/jaymeecastles.bsky.social
https://bsky.app/profile/monimeeez.bsky.social
https://bsky.app/profile/sydneysummers.bsky.social
https://bsky.app/profile/belledejour418.bsky.social
https://bsky.app/profile/kaela.bsky.social
https://bsky.app/profile/tsbeckibottomz.bsky.social
https://bsky.app/profile/fsc.bsky.social
https://bsky.app/profile/ghosty40hands.bsky.social
https://bsky.app/profile/vanniall.bsky.social
https://bsky.app/profile/fayelockwood.bsky.social
https://bsky.app/profile/bloodybubblegum.bsky.social
https://bsky.app/profile/emilyadairets.bsky.social